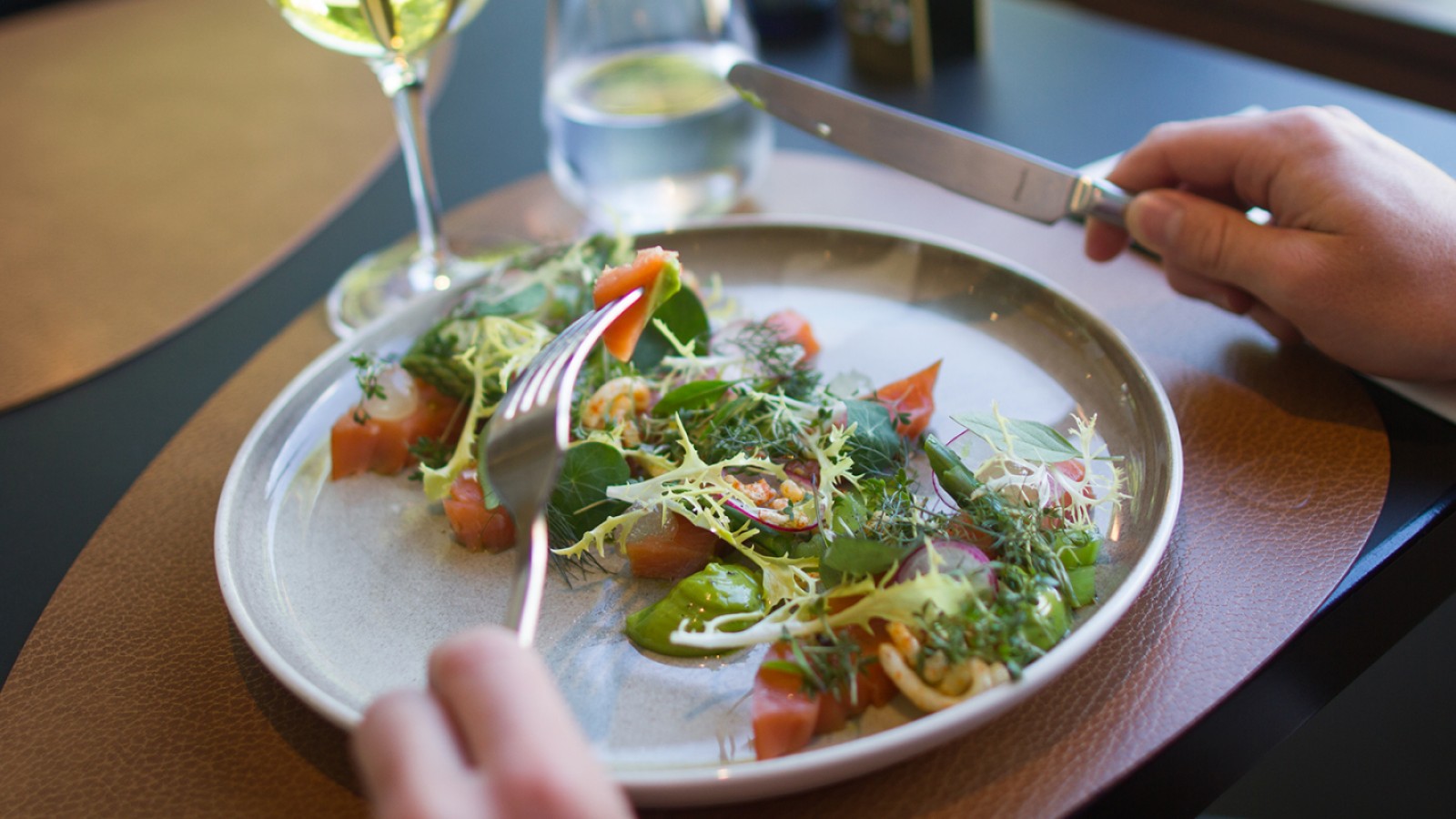 LUNCH DISHES
Tuesday-Sunday 11.30 am-3pm, Wednesday until 8pm.
TAPAS FOR 2 (min. two pers.)
A variety of cheeses, fish and sausages from the Italian, Spanish and French country kitchens with garnish and tapenade

295 DKK

CRAB
Stirred crab salad with apple puré, dill and crisp lettuce

150 DKK

COD
Crisp cod fried in panko breadcrumbs with herb cream, pickled cauliflower and carrot

145 DKK

TOAST MELBA
Hand-peeled shrimps on toasted focaccia
with avocado cream, lettuce and lemon

145 DKK

CHICKEN TERRINE
Chicken with bread chips, crispy ham, frisee and dijonnaise cream

135 DKK

RiSOTTO
Pearl barley risotto with Jerusalem artichoke, truffle and Parmesan (vegetarian dish)

135 DKK
CURRY SOUP
Creamy curry soup with fried cod, fennel and piquillo pepers
145 DKK
VEAL BRISKET
Glazed veal brisket with ginger, Savoy and pepper glaze
165 DKK
CHEESES
Danish and European cheeses with garnish and bisquits
85 DKK
CAKE & DESSERT
Everyday from 10am-4.30 pm, Wednesday until 8 pm.
CHOCOLATE
Gâteau Marcel chocolate cake with blood orange and white chocolate
60 DKK

APPLE PIE
Old-fashioned apple pie with whipped cream and crumble

55 DKK
LUNDSTRØM DESSERT
Orange dessert with mascarpone cream, crumble and rosemary granite
65 DKK
SWEETS TO GO WITH YOUR COFFEE
3 kinds of sweets selected by our head chef
45 DKK
BREAD
Tuesday - Friday from 10am - 2 pm
BREAKFAST PLATE
Wholemeal bun with Danish specialty cheese with Parma ham and Greek yogurt with blueberries, crumble and fruit
85 DKK

WHOLEMEAL BUN
Buttered wholemeal bun and Danish speciality cheese served with marmalade

48 DKK
WEEKEND BRUNCH
Saturday, Sunday and holidays 10am-2pm.
Hand-peeled shrimp with avocado and lemon
Greek yogurt with blueberry compote and rye
bread crumble
Scrambled eggs with home-made brunch
sausage and crispy bacon
Delicatessen with garnish
A selection of cheeses with biscuits and nuts
Mazarin cake with mascarpone cream and fruit

Served with coarse bread, rye bread and butter from Aabybro Mejeri

145 DKK
CHILDREN'S MENU
For children up to 12 years old – children's brunch only on Saturdays, Sundays and holidays, 10am-2pm
FOCACCIA
Crispy focaccia bun with tomato, Parma ham and cheese

45 DKK

CHILDREN'S BRUNCH

Greek yogurt with blueberry compote
and rye bread crumble
Scrambled eggs with homemade chorizo
and crispy bacon
Parma ham and melon
Mazarin cake with mascarpone cream and fruit
Homemade nutella

65 DKK
Allergic, special diet, vegetarian or vegan? Please inform our staff.

COLD DRINKS
ANTON'S ORGANIC JUICE, 0,25 l
| | |
| --- | --- |
| Blackcurrant | 34 DKK |
| Elderflower | 34 DKK |
| Strawberry | 34 DKK |
| Ginger ale | 34 DKK |
| Citrus | 34 DKK |
JUICE, 0,4 l
ICE WATER
| | |
| --- | --- |
| Per pitcher | 30 DKK |
| Spring water, 0,5 l | 20 DKK |
SOFT DRINKS, 0,25 l
| | |
| --- | --- |
| Coca Cola | 34 DKK |
| Coca Cola Zero | 34 DKK |
| Fanta | 34 DKK |
| Sprite | 34 DKK |
| Schweppes Lemon | 34 DKK |
| Læsø Mineral Water | 34 DKK |
| Læsø Mineral Water with citrus | 34 DKK |
DRAUGHT BEER, 0,4 l
Vulcano Pilsner, Fur Bryghus
Traditional under-fermented pilsner with a harmonic tasting experience. 4,6 % vol

48 DKK
Vulcano Classic, Fur Bryghus
Characteristic under-fermented wiener beer. 4,6% vol.
48 DKK
BOTTLED BEERS
FUR bottled beers, 0,5 l.
Bitter Pale Ale (2,6%)

RenaissanceBrown Ale (6,2%)

55 DKK

Limfjords Porter, Thisted Bryghus, 0,33 l.

A dark under-fermented porter with a taste of liquorice, smoke-roasted barley and malt sweetness. 7,9% vol.

38 DKK
Royal Free, 0,33 l.
Fresh, light golden pilsner with solid white foam. 0,05% vol.
Awarded as the best Danish alcohol-free beer by Danish Beer Enthusiasts
38 DKK
WINE LIST
Café Aalto's wines are imported with a focus on 'Cool Climate' areas around the world. Cool Climate designates a particular type of wine from grapes grown in climates with average growing season temperatures below 19 degrees Celsius. Their cooler growth conditions give the wines their distinctive character while offering intense and fresh tastes.

What our wines all have in common is that they come from discerning growers who are trendsetting leaders in their regions – many of them genuine artists of great vision and much promise.

All wines are sold "to go".
SPARKLING
| | |
| --- | --- |
| Cava, Domaine Portier. Penedés, Spain. | 285/60 DKK |
| Crémant d'Alsace, Bruno Sorg. Alsace, France. | 325 DKK |

WHITE WINE
| | |
| --- | --- |
| Rivaner, Karl H. Johner, 2015, Baden-Baden, Germany. | 285/60 DKK |
| Riesling 'R3', Corners Kauter, 2016, Rheingau, Germany. | 360/75 DKK |
| Chardonnay 'Macon-Villages', Rene Michel, 2014, Bourgogne, France. | 420/80 DKK |
| Sauvignon Blanc, Knewitz, 2015, Rheinhessen, Germany. | 360 DKK |
| Grüner Veltliner, Setzer, 2015, Weinvertel, Austria. | 295 DKK |
| Pinot Blanc, Bruno Sorg, 2015, Alsace, France. | 325 DKK |

ROSÉ WINE
| | |
| --- | --- |
| Cuvée Louise Rosé, K.H. Johner, 2014, Baden-Baden, Germany. | 270/60 DKK |
| Pornfelder, Lukas Krauss, 2015, Pfalz, Germany. | 345 DKK |
| 'Spring Break', Zillinger, 2014. Weinviertel, Austria. | 285 DKK |

RED WINE
| | |
| --- | --- |
| Malbec 'Croizillon', Chateau Les Croisille, 2015, Cahors, France. | 295/60 DKK |
| Shiraz 'Travel Writing', Bibliotheque, 2014, Mclaren Vale, Australia. | 325 DKK |
| Spätburgunder 'Vom Kaiserstuhl', Karl H. Johner, 2012, Baden-Baden, Germany. | 465 DKK |
| Côtes du Rhône, Cros de la Mûre, 2015, Rhône, France. | 375 DKK |
HOT DRINKS
COFFEE AND HOT CHOCOLATE
| | |
| --- | --- |
| Plain brewed coffee | 30 DKK |
| Espresso | 38 DKK |
| Cappuccino | 42 DKK |
| Café latte | 42 DKK |
| Hot chocolate | 42 DKK |
TEA
Morning Tea - Fairtrade tea from Nute
Black Assam rhubarb tea.

42 DKK

Nordic Night - Fairtrade tea from Nute
White lemon and white cornflower tea.

42 DKK

Urban Zen - Fairtrade tea from T-Town
Spicy chai-inspired tea.

42 DKK

Camomile Vibe - Fairtrade tea from T-Town
White camomile tea with lemon grass and lemon.

42 DKK

Zesty Earl Grey - Fairtrade tea from T-Town
Black bergamot tea with and lemon.

42 DKK
Yellow Green - Fairtrade tea from T-Town
Green tea with citrus and ginger.
42 DKK