Monumental drawings, an epic narrative and an immersive soundscape will take your breath away, making you question and reconsider traditional power dynamics and predefined ideas of history, gender and sexual relationships.

Experience all this at Kunsten in the new year, when rising art-world star Toyin Ojih Odutola (b. 1985) creates a parallel world at the museum.

This new series of works depicts the fantastic tale of an ancient civilization, set in a surreal landscape inspired by the rock formations of Plateau State in central Nigeria. Ojih Odutola plays the role of the fictional archaeologist tasked to study their stories, after their apparent creations are uncovered during an archaeological dig.

An immersive soundscape by the artist Peter Adjaye, made exclusively for the exhibition, adds a further sensory dimension and intensity to the experience.
Power, sex and gender
The Nigerian-born, New York-based Toyin Ojih Odutola is known worldwide for her large-scale drawings. In this exhibition, she mixes fiction and reality to create a fascinating myth that explores an imperialist society in which expected power structures are 'flipped', where female rulers are served by male labourers and each community is not allowed to forge relationships outside of their own gender. Presenting a new series of drawings made with a monochrome palette, using a spectrum of black and white tones, the exhibition draws us into an alternate universe and a tale of power dynamics, forbidden love and more.
"Toyin Ojih Odutola is an eminent storyteller working visually in what the world of literature calls fantastic or speculative fiction. The artist creates fascinating scenarios, inviting us into fantastical worlds that are both distinctly familiar and unsettlingly surreal, with clear references to the history of literature and art", says Stinna Toft, Chief Curator at Kunsten Museum of Modern Art Aalborg.
The exhibition will present a newly conceived series of 40 drawings on canvas and board. Each of Ojih Odutola's drawings can be compared to a chapter in a book. The chapters of the exhibition will unfold within a scenography adapted specifically for Kunsten's New Gallery.
Stinna Toft says: "Prepare for the impact of Ojih Odutola's universe, which will have you gasping for air, mentally. The exhibition satisfies a desire to be skin against skin once again. This highly intense experience will leave you fascinated by Ojih Odutola's singular mix of drawing, sound and fiction on social and political themes. In this way, she experiments with and explores the format of the exhibition itself and the traditions of a classical medium like drawing."
Painstakingly executed on a monumental scale, Ojih Odutola's works still maintain a remarkable intimacy.
From Barbican to Kunsten
This exhibition by Toyin Ojih Odutola was originally commissioned by the Barbican Centre, London, with support from Arts Council England and Jack Shainman Gallery, New York. The exhibition was organized in partnership with Kunsten Museum of Modern Art Aalborg and the Hirshhorn Museum and Sculpture Garden, Washington, DC.
Toyin Ojih Odutola: A Countervailing Theory opens with the museum when given the green light by the authorities.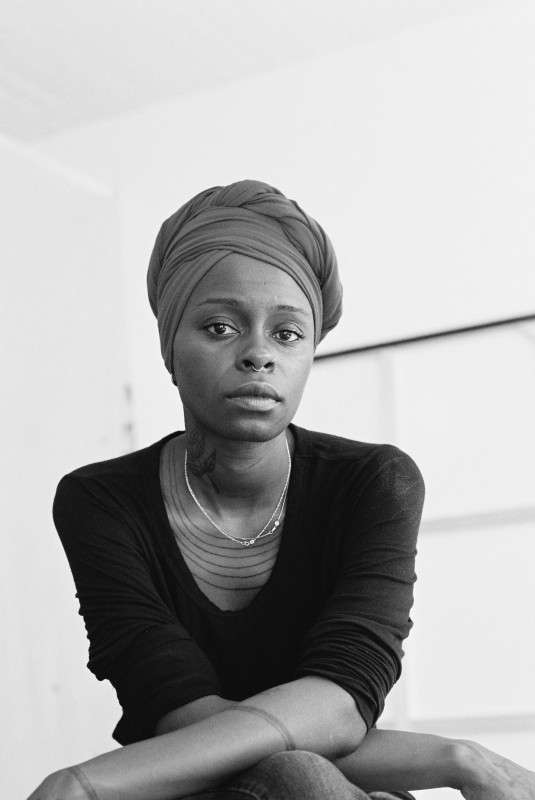 Portrait of Toyin Ojih Odutola. Photo by Beth Wilkinson © Toyin Ojih Odutola