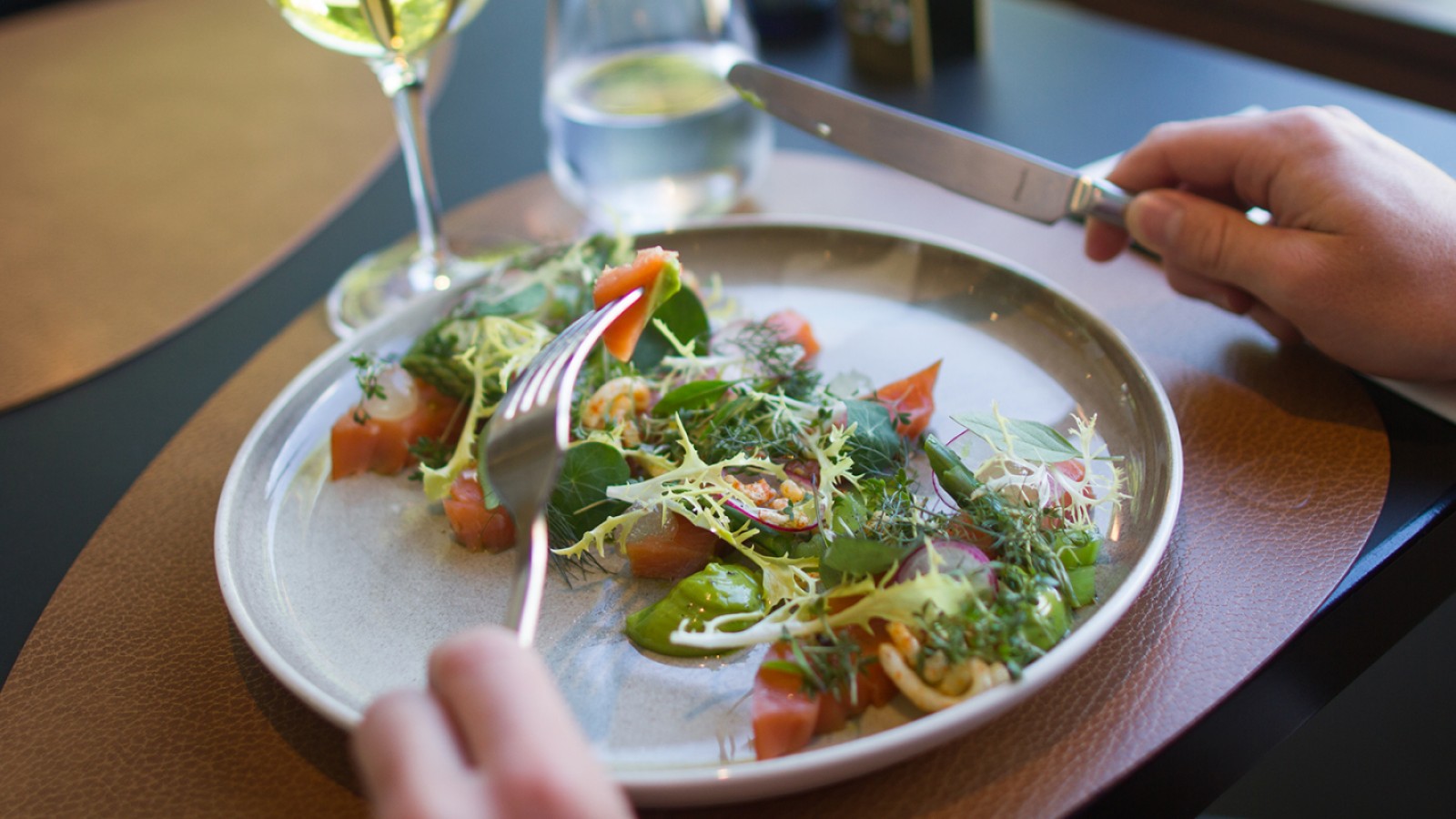 LUNCH DISHES
Tuesday-Sunday 11.30 am-3pm, Wednesday until 8pm.
FRIED FLATFISH WITH HAND-PEELED SHRIMPS
Flatfish fried in panko breadcrumbs with lemon cream, asparagus, bread chips and herbs

185 DKK

TAPAS FOR 2
Shrimps, fish, charcuteri, cheeses, tapenade and olives

320 DKK

RISOTTO
Creamy risotto with asparagus, parmesan, rams and confit quail leg

150 DKK

TOAST
Crisp foccacia with serrano, tomato compote, amber cheese, lettuce and truffle mayo

150 DKK

SMOKED SALMON
Smoked salmon with buckthorn, rams cream, crisp rye chips, fennel, cucumber and herbs

160 DKK

CHEESES
Selection of Danish and European cheeses with garniture

125 DKK
SEASONAL DISH
Ask the staff
165 DKK
TWO-COURSE DINNER MENU
Let the chef choose the dishes. Served Wednesdays from 5-8pm
225 DKK
CAKE & DESSERT
Everyday from 10am-4.30 pm, Wednesday until 8 pm.
RHUBARB
Rhubarb compote with vanilla parfait and merengues
55 DKK

ORANGE/CHOCOLATE CAKE
Orange-/chocolate cake

60 DKK
DESSERT OF THE SEAON
Ask the staff
60 DKK
SWEETS TO GO WITH YOUR COFFEE
3 kinds of homemade sweets
45 DKK
WHOLEMEAL BUN
Wholemeal bun served with Arla Unika Gammel Knas cheese, blackcurrant jam and butter
48 DKK
WEEKEND BRUNCH
Saturday, Sunday and holidays 10am-2pm.
Greek yogurt with rhubarb compote and crumble
Chocolate cake with white chocolate ganache and fresh fruit
Smoked salmon with buckthorn and rams
Scrambled eggs with homemade chorizo sausages and crunchy bacon
Arla Unika Gammel Knas cheese with pickled nuts and rye bread chips
A selection of charcuteri with garniture

​Served with coarse bread, rye bread and butter from Aabybro Mejeri

145 DKK
CHILDREN'S MENU
For children up to 12 years old – children's brunch only on Saturdays, Sundays and holidays, 10am-2pm
FOCACCIA
Foccacia with tomato sauce, cheddar cheese and ham.

45 DKK
SLIDERS
Brioche bun filled with chicken, lettuce, BBQ-sauce and rams
48 DKK

CHILDREN'S BRUNCH

Greek yogurt with rhubarb compote and crumble
Scrambled eggs with homemade chorizo sausage and crunchy bacon
Parma ham with melon
Chocolate cake with white chocolate ganache
Homemade Nutella

65 DKK
Allergic, special diet, vegetarian or vegan? Please inform our staff.

COLD DRINKS
ANTON'S ORGANIC JUICE, 0,25 l
| | |
| --- | --- |
| Blackcurrant | 34 DKK |
| Elderflower | 34 DKK |
| Strawberry | 34 DKK |
| Ginger ale | 34 DKK |
| Citrus | 34 DKK |
| Rhubarg | 34 DKK |
JUICE, 0,4 l
ICE WATER
| | |
| --- | --- |
| Per pitcher | 30 DKK |
| Spring water, 0,5 l | 20 DKK |
SOFT DRINKS, 0,25 l
| | |
| --- | --- |
| Coca Cola | 34 DKK |
| Coca Cola Zero | 34 DKK |
| Fanta | 34 DKK |
| Sprite | 34 DKK |
| Schweppes Lemon | 34 DKK |
| Læsø Mineral Water | 34 DKK |
| Læsø Mineral Water with citrus | 34 DKK |
DRAUGHT BEER, 0,4 l
Vulcano Pilsner, FUR Bryghus
Traditional under-fermented pilsner with a harmonic tasting experience. 4,6 % vol

48 DKK
Vulcano Classic, FUR Bryghus
Characteristic under-fermented wiener beer. 4,6% vol.
48 DKK
FUR Hvede
A fermented Weissbier, bubbly and unfiltered with a color of reddish amber
48 DKK
BOTTLED BEERS
FUR bottled beers, 0,5 l.
Bitter Pale Ale (2,6%)

RenaissanceBrown Ale (6,2%)
Vulcano Pilsner (4,6%)

55 DKK

Limfjords Porter, Thisted Bryghus, 0,33 l.

A dark under-fermented porter with a taste of liquorice, smoke-roasted barley and malt sweetness. 7,9% vol.

38 DKK
Royal Free, 0,33 l.
Fresh, light golden pilsner with solid white foam. 0,05% vol.
Awarded as the best Danish alcohol-free beer by Danish Beer Enthusiasts
38 DKK
WINE LIST
Café Aalto's wines are imported with a focus on 'Cool Climate' areas around the world. Cool Climate designates a particular type of wine from grapes grown in climates with average growing season temperatures below 19 degrees Celsius. Their cooler growth conditions give the wines their distinctive character while offering intense and fresh tastes.

What our wines all have in common is that they come from discerning growers who are trendsetting leaders in their regions – many of them genuine artists of great vision and much promise.

All wines are sold "to go".
SPARKLING
| | |
| --- | --- |
| Cava, Domaine Portier. Penedés, Spain. | 285/60 DKK |
| Crémant d'Alsace, Bruno Sorg. Alsace, France. | 325 DKK |

WHITE WINE
| | |
| --- | --- |
| Rivaner, Karl H. Johner, 2015, Baden-Baden, Germany. | 285/60 DKK |
| Riesling 'R3', Corners Kauter, 2016, Rheingau, Germany. | 360/75 DKK |
| Chardonnay 'Macon-Villages', Rene Michel, 2014, Bourgogne, France. | 420/80 DKK |
| Sauvignon Blanc, Knewitz, 2015, Rheinhessen, Germany. | 360 DKK |
| Grüner Veltliner, Setzer, 2015, Weinvertel, Austria. | 295 DKK |
| Pinot Blanc, Bruno Sorg, 2015, Alsace, France. | 325 DKK |

ROSÉ WINE
| | |
| --- | --- |
| Cuvée Louise Rosé, K.H. Johner, 2014, Baden-Baden, Germany. | 270/60 DKK |
| Pornfelder, Lukas Krauss, 2015, Pfalz, Germany. | 345 DKK |
| 'Spring Break', Zillinger, 2014. Weinviertel, Austria. | 285 DKK |

RED WINE
| | |
| --- | --- |
| Malbec 'Croizillon', Chateau Les Croisille, 2015, Cahors, France. | 295/60 DKK |
| Shiraz 'Travel Writing', Bibliotheque, 2014, Mclaren Vale, Australia. | 325 DKK |
| Spätburgunder 'Vom Kaiserstuhl', Karl H. Johner, 2012, Baden-Baden, Germany. | 465 DKK |
| Côtes du Rhône, Cros de la Mûre, 2015, Rhône, France. | 375 DKK |
HOT DRINKS
COFFEE AND HOT CHOCOLATE
| | |
| --- | --- |
| Plain brewed coffee | 30 DKK |
| Espresso | 38 DKK |
| Cappuccino | 42 DKK |
| Café latte | 42 DKK |
| Hot chocolate | 42 DKK |
TEA
Morning Tea - Fairtrade tea from Nute
Black Assam rhubarb tea.

42 DKK

Nordic Night - Fairtrade tea from Nute
White lemon and white cornflower tea.

42 DKK

Urban Zen - Fairtrade tea from T-Town
Spicy chai-inspired tea.

42 DKK

Camomile Vibe - Fairtrade tea from T-Town
White camomile tea with lemon grass and lemon.

42 DKK

Zesty Earl Grey - Fairtrade tea from T-Town
Black bergamot tea with and lemon.

42 DKK
Yellow Green - Fairtrade tea from T-Town
Green tea with citrus and ginger.
42 DKK